Sportsbetting.ag is one of the top choices in internet bookmaking especially for customers from the United States who may have trouble finding an online bookie willing to accept their action. The company accepts bettors from all 50 states, which gives it a leg up on many of its competitors.
Through the use of the bonus codes SB1000, you can claim a 50% up to $1,000 bonus on your first deposit!
Click here to go to Sportsbetting.ag now!
How Do I Activate the Sportsbetting.ag Bonus?
Taking advantage of the SB1000 bonus code is easy. Make your deposit of at least $25 via any available method except for book-to-book. Remember to enter the promo code SB1000 in the space indicated in the deposit form:
Deposit $2,000 if you want to max out the bonus at $1,000 because $2,000 * 50% ≈ $1,000. As long as you qualify for the bonus, it will be added to your account immediately after your transaction processes.
For an even larger bonus and to avoid fees, deposit with Bitcoin! Use the SportsBetting.ag promo code 100CRYPTO and receive a 100% deposit bonus up to $1,000!
There is a 14x wagering requirement on the 100CRYPTO bonus code versus a 10x wagering requirement on the SB1000 bonus code, but you receive double the amount of bonus money, so it's well worth the effort.
And there are no fees when deposit or withdrawing from SportsBetting.ag when using Bitcoin (or one of the other supported Cryptocurrencies).
What are the Rules of the Sportsbetting.ag Bonus?
The bonus money awarded with the SB1000 or 100CRYPTO promo codes are free plays. This means that you can place bets with them like normal, but only the amount of your winnings will be credited to your account. The stake value itself will be removed whether you win or lose. You can use the free wagers on straight bets, parlays and teasers, but you cannot place round robin bets with them or buy points. The maximum amount you can win with your bonus is capped at $5,000.
Using your sports bonus in the live betting, racebook, casino, poker room or skill games sections of Sportsbetting.ag is prohibited. You must employ your free plays solely in the regular sportsbook interface.
Free play bonuses can only be used to bet on select markets. They are:
Baseball (MLB)
Basketball (NBA/WNBA/NCAA)
Boxing
Cricket
Football (NFL/CFL/Arena/NCAA)
Hockey (NHL)
Soccer
Tennis
UFC
You have to complete rollover requirements totaling 12 times the sum of your deposit and bonus before requesting a cashout. If you fail to do so, then at the time of withdrawal, the bonus sum will be deducted from your balance even if you had earlier used some of your free plays and lost them. If you put $1,334 into your balance to get the highest possible $1,000 bonus, then your playthrough obligations will be ($1,334 + $1,000) * 12 = $28,008.
Even if you fulfill your wagering obligations quickly, you must wait at least 30 days from the time of your deposit before cashing any money out.
How Do I Make a Deposit at Sportsbetting.ag?
Because it's a first deposit bonus, rather than a no-deposit bonus, the SB1000 deal demands that you fund your account with real money. There are quite a number of ways to do so at Sportsbetting.ag:
Please note that some of these options, like Skrill, are not available to residents of the United States. Overall, Bitcoin is probably the best choice for most users. It's speedy and carries low fees although the recent surge in popularity of the digital currency means that fees have begun to climb. Litecoin is a sensible alternative with much lower transaction fees. If you don't want to use cryptocurrencies, then credit cards provide a way to easily fund your account. However, Sportsbetting.ag levies a 6.5% surcharge on all credit card deposits.

Sportsbetting.ag Betting Platform
After you make your deposit and return to the main sportsbetting page, you'll have to choose the sport you're interested in wagering on from the left menu. Remember that only certain leagues are compatible with the initial bonus free plays. You do, however, also have a real money balance consisting of your own funds, which you can use to put action on any contest offered by the firm.
When you select the type of matches you wish to view from this menu, a list of contests will be shown in the center of your screen. You'll see a bunch of lines along with the odds. At the top of the page, you'll be able to change between American, Decimal and Fractional odds. By clicking on the plus sign next to a contest, you'll be able to expand the view to see more lines for that match.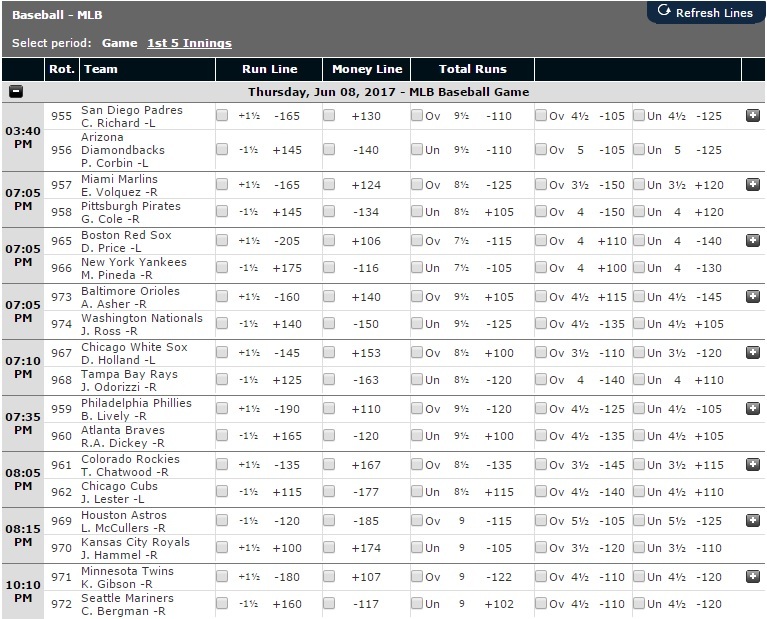 Choose the bet that you wish to make by clicking on the appropriate checkbox. Then toward the right of the page, select either "Straight Bet,"Parlay & Robin," "IF Bet & Reverse" or "Teaser & Parlay." Then click the "Use Free Play" box if you intend to deploy your bonus funds rather than your real money. A betslip will appear showing your bet and the odds. Enter the amount you want to put at risk, and the sum you stand to win will be calculated and displayed. If everything looks good, click on "Place My Bet," and your wager will be accepted by the system.
Other Sportsbetting.ag Promos
The 75% up to $1,000 welcome bonus draws a lot of bettors into the arms of Sportsbetting.ag, but this isn't the end of the free money to be had. Through a program of ongoing specials, the organization endeavors to keep its members satisfied and returning to place more wagers.
25% Bonus for Life
Every time (beyond the first) that you make a deposit of $50 or greater into your account, Sportsbetting.ag will reward you with a 25% bonus up to a max of $1,000. The promo code attached to this offer is FORLIFE. In order to benefit from this code, you must not have any free plays in your account, and you must make your valid deposit via any method other than book-to-book and Skrill. Before making a withdrawal, you'll have to fulfill a rollover total equal to six times the sum of your deposit and bonus. Put $4,000 into your balance to gain the highest allowed $1,000 bonus value.
Refer a Friend
Sportsbetting.ag will generate a unique signup link that you can share with your friends and family. For everyone who joins up using your personalized link and deposits at least $100, you'll be credited with a $100 freeplay. Your bonus will be applied to your account once the referred player rolls over his or her deposit a single time. You have to play through the bonus eight times before your obligations are met. Under the terms of this program, you'll only get a bonus for referring new customers from the United States, Canada and Australia.
$25 Live In-Play Free Bet
Although you cannot use your initial deposit bonus for live, in-game wagering, you can make a risk-free $25 bet on this platform. Simply make your first bet of $25 in the Live betting interface, and if it should lose, you can send an email to freeplay@sportsbetting.ag with your account number and the ticket number for the bet in question. Enter the words "$25 Live free bet" as the subject of your email, and be sure to send this email within 24 hours after the finishing of the contest. A $25 free play will be issued to your account within 48 hours. You'll have to play through the $25 six times before making a withdrawal.
$50 Mobile Free Bet
Sportsbetting.ag is willing to reimburse you for your first bet of up to $50 using a phone or tablet in the event that it should lose. This doesn't apply to live betting, racebook or futures wagers. If you qualify, send an email to freeplay@SportsBetting.ag containing your account number and the relevant ticket number within 24 hours after the conclusion of the game. Put the subject as "$50 Mobile Free Play." Your balance will be augmented by a freeplay for the size of your losing bet, up to $50, within 48 hours. You must play through this free play six times before requesting a cashout.
$25 Horse Free Play
You cannot use the normal welcome bonus free plays in the racebook, which is why Sportsbetting.ag has developed another way for you to score some free money to bet on the horses. Place your first-ever wager in the racebook, and if it loses, you'll get the amount you risked (up to $25) reimbursed in the form of a free play. This offer isn't valid for bets on Breeder's Cup, Kentucky Derby, Preakness Stakes or Belmont Stakes. If your first racetrack bet loses, send an email to freeplay@sportsbetting.ag with the ticket number and your account number within 24 hours after the race is over. Your free play will hit your account within 48 hours, and it will be subject to a wagering requirement of 6x before you can receive a payout from your account.
Sportsbetting.ag Mobile
A growing number of people enjoy placing a few bets while on the road or away from their personal computers. Sportsbetting.ag has elected to cater to these customers with a mobile sportsbook that works with iPhones, iPads and Android devices. When you go to the Sportsbetting.ag website on a compatible device and log in, you'll automatically see the mobile-optimized version rather than the desktop web page.
Reviews
Sportsbetting.ag Bonus Codes
Average rating:
2 reviews
Jan 12, 2019
New Promo Code But Still Worked
Looks like the promo codes have changed since the last review but I used the 100CRYPTO one and got the 100% match bonus. There are some serious fees when depositing with something other than crypto, I would highly recommend if you play here that you deposit w/ Bitcoin or one of the other cryptocurrencies. Good luck!
Sep 5, 2017
Promo Code Worked!
I just signed up with the promo code NEW1000 and it's totally legit, receive the 75% bonus. But what's also very cool is you receive extra free bet opportunities IN ADDITION to this welcome bonus - such as the free horse racing bet and the free mobile bet!! The website and software is easy to use and much better than 5Dimes. Recommended!