100% Up to $1,000 Deposit Bonus, TL;DR
Get yourself a 100% up to $1,000 Welcome Bonus just by making your first deposit at Ignition Casino. Read more about the Welcome Bonus as well as detailed clearing calculations below!
Making a Real Money Deposit at Ignition Casino
Now that you are finished with the registration process, the harder part is over. Making a deposit is a breeze and takes no time at all. Just follow these simple steps:
From the lobby, navigate to the cashier and click "Make a deposit". This will bring up a window with all the available Deposit methods. To learn more about them skip ahead to the "Deposit Methods" section. If you already have a preferred deposit method, select it and click "Deposit".
Once you have selected your preferred method, you will need to enter all the information required to process your deposit. In the screenshot example below, you can see the next steps required would be to select your deposit amount, after which you would be shown instruction on how to finalize your deposit. Don't worry about entering an Ignition Poker bonus code, this is not needed to claim your Bonus!
Once you have filled everything out, your deposit will be processed almost immediately and you can jump right into the tables!
Deposit Options
Ignition Casino has only two deposit methods available – credit cards and bitcoin. When it comes to credit cards, you can use you VISA, Mastercard or American Express for your deposits. This is a safe and popular deposit method since the vast majority of people own at least one of these credit cards.
Bitcoin is of course the new star of the show and seemingly, every online poker room now has it as one of their top deposit options. Ignition Casino offer Bitcoin and Bitcoin Cash. While these seem like the same thing, they are not. On August 1st 2017, a fundamental difference between two bitcoin development teams lead to one team splitting off and essentially creating a new version of the currency, known as Bitcoin Cash.
Deposit Help
If you are experiencing any problems making your first deposit, you can always contact Ingition Casino support, whether though the live chat support feature, e-mail or giving them a call at 1-855-370-0600.
Clearing your Welcome Bonus
First things first, there is no Ignition Casino bonus code required, once you have made your deposit, the Bonus will be activated automatically! Ignition Casino Bonus is divided into 8 tiers, allowing players to activate the full Bonus, but claim only part of it if they don't feel like going all the way. Unlike Bonuses where the entire thing has to be cleared and collected in one chunk, this is great for most players, because there are all sorts of circumstances that can stop you from achieving your goal in the allocated amount of time.
On the left you can see the Welcome Bonus tier chart. As you can see, the Bonus issued column shows the amount of Bonus money you will be credited once you reach that specific level by earning the required amount of Poker Points. The last column shows the cumulative Bonus amount you will have earned by reaching a certain level.
If your Bonus amount falls between tiers, it will be paid out based on the ratio of Points/dollars at that Tier. This means that if you make a deposit of $60, you won't have to earn the entire 400 Poker Points needed to reach tier 4. When you earn 185 Poker Points, you will receive $50, and then you will need to earn an extra 43 Poker Point to get the last $10.
Since going from tier 3 to tier 4 requires 215 Poker Points and earns you an additional $50. Applying the following formula – [Remaining bonus / Tier bonus * Poker Points Needed], you can calculate how many Poker Points you will need to claim your entire Bonus amount.
$10 / $50 * 215 = 43
There are no rollover requirements on Bonuses issued, so as soon as you get them, you can withdraw them! There is however, a time limit on clearing your entire Bonus and that is 1 month. Don't worry though, if partial Bonus releases ensure that you will never lose the entire Bonus value if you don't clear it fully in time.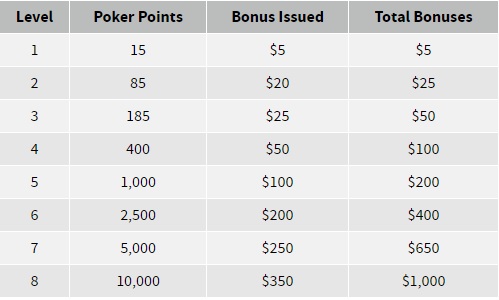 Earning Poker Points
Poker Points are primarily used to later exchange for tournament tickets, by the also count towards clearing the Welcome Bonus. Poker Points can be earned by playing any games at Ignition Casino, however, different games yield different amount of points.
Tournament and Sit & Go's will earn you 3 Poker Points for every $1 spent in fees. Jackpot Sit & Go's will earn 0.25 Point for every $1 in buy-in's, which is not the same as fees. Jackpot Sit & Go's have a uniform 7% rake regardless of stakes, so they will earn you ~3.57 Poker Points for every $1 you spend in fees.
It can be a little hard to calculate the amount of Poker Points which can be earned by playing cash games because of Ignition Casino's quite complicated system of awarding Poker Points at cash game tables. We will discuss that in more detail in our VIP program section, but for now we'll just mention that players earn approximately 1 Poker Point for every $1 spent in rake at cash game tables.
Bonus Value
The chart will help you figure out the value you will get by reaching certain levels of your Bonus by playing different games. The graph  shows a visual representation of the total value of clearing the Bonus playing only certain game formats.
The following formulas have been used for these calculations:
Tournaments/Sit & Go's/Jackpot Sit & Go's formula for Level Value:
100 * Bonus Issued at Current Level / (Points Require To Reach Current Level From Last Level / Points Earned Per $1 in Fees)
Tournaments/Sit & Go's/Jackpot Sit & Go's formula for Total Value:
100 * Bonus Issued at Current Level / (Points Require To Reach Level / Points Earned Per $1 in Fees)
Cash games formula for Level Value:
100 * Bonus Issued at Current Level / (Points Require To Reach Current Level From Last Level / Average Amount of Rake Required To Earn 1 Point)
Cash games formula for Total Value:
100 * Bonus Issued at Current Level / (Points Require To Reach Level / Points Earned Per $1 in Fees)
As you can see, from the chart and graph, you can get the most value from your Bonus by playing Jackpot Sit & Go's. Value gained by playing tournaments is not far behind, but it definitely seems like it's not worth clearing you Bonus playing cash games.
Casino Welcome Bonus
If the 100% up to $1,000 Poker Welcome Bonus is just not enough, take advantage of the same offer for Ignition's Casino offering! The 100% up to $1,000 Casino Welcome Bonus must be claimed while making your first Deposit.
The Bonus is subject to a 25X playthrough requirement before it can be withdrawn. The table on the left shows how much certain games contribute towards the playthrough requirement.
Claim Your 100% up to $1,000 Ignition Casino Welcome Bonus
New to Ignition Casino? Register today and boost your bankroll by $1,000!
VIP program
When it comes to poker, Ignition Casino does not offer a traditional VIP tiers, but rather a simple way of earning Poker Points and exchanging them. The table below shows how many Poker Points players earn in a cash game depending on how much rake they have contributed to the pot.
Tell a Friend Program
Ignition Casino always offer opportunities for player to get something extra. Got any friend that might want to try out Ignitions poker tables? Tell them all about ignition and get a 200% Bonus up to $100 after they make their first deposit!
Simply log into your account at https://www.ignitioncasino.eu/poker and navigate to the "Tell a Friend" section. There you will find a custom referral link, as well as easy way to share the link of twitter or facebook. And just to be clear, this is not a one time thing, you get the Bonus for every player that registers using your link and makes a deposit!
Once your Bonus is activated, it can be claimed by playing both poker and casino games. Clearing the bonus at the poker tables requires players to earn 3 Poker Points per every Bonus dollar. This means that if you activate a $100 Bonus, you need to earn 300 Poker Points to clear it.
Clearing your Bonus playing casino games has a 25x playthrough requirement. Also, in this not all casino games contribute to the towards the playthrough requirement the same. The table below shows the differences in contribution between various games.
Poker Points
Playing tournaments will get you 3 Poker Points for every $1 you spend if fees. This means that if you enter a tournament with a $10 fee, you will receive 30 Poker Points. Poker Points can then be exchanged for various tickets, including tickets to tournaments, sit & go's, freerolls and casino chips.
Jackpot Sit & Go's will earn you approximately 3.57 Poker Point for $1 you spend if fees. We can calculate this number because all Jackpot Sit & Go's have a fee of 7% regardless of stakes. This means that if take $15 Jackpot Sit & Go's for example, the fee will be $1.05 per tournament.
$15 * 0.07 = $1.05
Jackpot Sit & Go's don't award Poker Points based on fees though, they award them at a rate of 0.25 Poker Points for every $1 in buy-in. So, for a single $15 Jackpot Sit & Go you would earn 3.75 Poker Points.
0.25 * $15 = 3.75
Since you've spend $1.05 in fees and received 3.75 Poker Points for it, we can now calculate how much Poker Point $1 is worth using this formula:
3.75 / $1.05 = ~3.57
When it comes to cash games, Poker Points are distribute in a non-conventional method to say the least. The table below shows how Poker Points are distributed at cash game tables based on the amount of rake a player contributes to the pot.
Overall, Poker Points offer players rakeback between 1% and 2% depending on how you choose to spend your points. To exchange your Poker Points for tickets, simply go to the "account" menu in the Ignition Poker software and then click on "My Poker". There you will see the entire list of tickets you can buy for you Points. The value of 1 Poker Point is approximately $0.005.
Purchased tickets have quite a quick expiration date, most expire in 3 to 4 months from the day of purchase, so once you get them, make sure they don't lie around for too long. The Poker Points themselves can also expire if a player is inactive, but this period is considerably longer – 18 months.
Casino VIP Program
Despite the lack of VIP tiers for Ignition Poker, Ignition Casino players will get to enjoy quite a comprehensive VIP program with up to 15% daily cashback. At Ignition Casino, players earn Ignition Miles, which determine your VIP tier and can be exchanged for cash. Players earn a different amount of Ignition Miles based on the games they play. The table below breaks down that difference.
Ignition Casino has 8 VIP tiers. The higher tier you reach, the better exchange rate you get on your Ignition Miles. Every player starts on the first VIP tier "Steel", which offers 6% daily cash back.
Let's say you are a fan of slots. Reaching the "Chrome" level requires 2,500 Ignition Miles. Since all slot games get you 5 Ignition Miles for every $1 wagered, you will need to wager a total of $500 to reach Crome level.
2,500 / 5 = $500
Reaching the highest VIP level "Diamond" will require you to wager $500,000 on slots.
2,500,000 / 5 = $500,000
Extra Perks For Casino Players
Another great thing about Ignition Casino's VIP program is that is also overlaps with poker. If you are a VIP level of "Chrome" or higher, every Thursday at 9:05 PM ET you can take part in the weekly $2,500 GTD freeroll. This freeroll is extremely soft and presents a great opportunity to make extra money!
Another great perk for casino players who are on "Platinum" level or higher is that they receive exclusive Birthday bonuses, which can be a great opportunity to boost your bankroll!
Maximum Jackpot Sit & Go Prize Pool
Ignition Casino Poker Software
Ignition casino share their poker software with their sister site Bovada and offer players a wide range of great options and features.
The casual player experience is greatly enhanced by the introduction of anonymous table and quick seating and some of the most popular poker formats in the world like Zone Poker and Jackpot Sit & Go's will make you gaming experience here unforgettable.
With an addition of a Mobile app, players can enjoy Ignition Casino's offering on any device, anywhere in the world. You can read a detail breakdown of Ignition Casino's poker platform in our Ignition Poker download review and get started from there!
Poker Tournament Schedule
Ignition Casino regularly offers tournaments with prize pools unmatched by most US facing online poker rooms. Hundreds of thousands are won in guaranteed tournament prize pool every day!
Check out The most popular guaranteed prize pool tournaments below:
| Time (ET) | Tournament | Gtd Prize Pool | Buy-in | Frequency |
| --- | --- | --- | --- | --- |
| 4:00 PM | $100,000 Guaranteed | $100,000 | $162 | Weekly (Sunday) |
| 7:25 PM | $25,000 GTD Monster Stack | $25,000 | $215 | Weekly (Sunday) |
| 6:00 PM | $75,000 GTD High Roller | $75,000 | $325 | Weekly (Monday) |
| 7:25 PM | $50,000 GTD Monster Stack | $50,000 | $215 | Weekly (Monday) |
| 8:00 PM | $30,000 Guaranteed Turbo (10,000 Starting Stack) | $30,000 | $55 | Weekly (Monday) |
| 8:00 PM | $25,000 Guaranteed (SS) | $25,000 | $55 | Daily |
In Conclusion…
Between amazing Bonus offers (no Ignition Poker bonus code is needed), soft games and great software, Ignition Casino has you covered. No wonder they became one of the most popular US available poker rooms in just a few years!