Our Recommended Red Stag No Deposit and Deposit Bonuses TL;DR
RedStag gives 2 choices of No Deposit Bonus offers we recommend. There are also two options for Deposit Bonuses that we also recommend. Since you must claim a deposit before claiming your second No Deposit bonus, take advantage of either of these Deposit Bonuses.
Red Stag Casino Promo Codes
Below we list our recommended Red Stag bonus codes in order of our preference. Make sure to claim one of the recommended Deposit Bonuses to maximize your bonus winning chances by meeting your deposit requirement for claiming a second No Deposit Bonus.
You can claim these promotions in order, but the ideal way to maximize your bonus options is claiming them in the the order listed in the table, by starting with the $10 Free Chip and then 400% Deposit Bonus available only for first time deposits.
Bonus Code
Bonus Offer
Rollover
TENNER
$10 Free Chip! No Deposit Required!
50x all allowed games
4000WIN
400% Deposit Bonus on your first deposit only!
30x all allowed games
CHBL47POKIES
47 Free Spins! No deposit required!
40x all allowed games
GOT300
300% Deposit Bonus on any deposit over $25!
100% 2nd chance cashback
30x all allowed games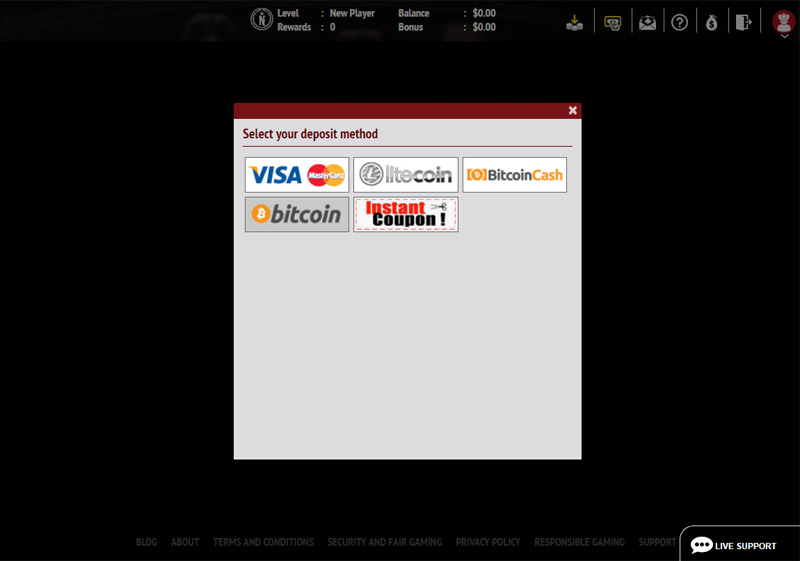 Go to the Cashier page, Instant Coupon for No Deposit Bonuses or make a deposit and claim Deposit bonuses there.
To claim any bonus at Red Stag, whether a No Deposit or Deposit Match bonus code, go to Cashier page.
For No Deposit Bonuses, click on the "Instant Coupon" link. If you want to claim a Deposit Bonus, simply choose your preferred funding option.
Check out the table above, to find a bonus code that fits your style. If you are unsure, we recommending choosing the bonuses in the order we listed them. But if you were to choose one, start with the $10 Free Chip and use the TENNER bonus code.
To claim a No Deposit Bonus, click on the "Instant Coupon" section.
Here you will simply enter your desired No Deposit bonus. We recommend starting off with the $10 Free Chip by using the promo code TENNER.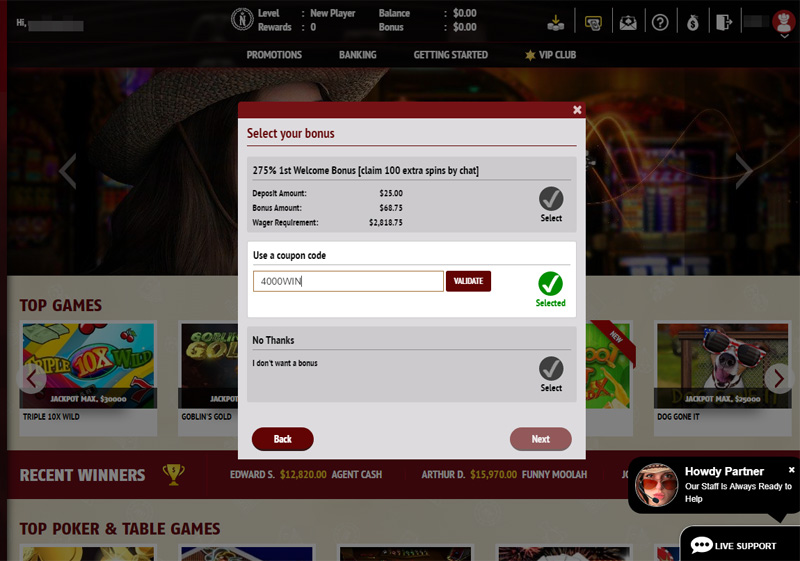 Choose your preferred desired option, enter your bonus code in the "Use a coupon code" field (i.e. 4000WIN).
To claim a Deposit Match Bonus, go to your funding option of choice. After filling out your banking information and desired deposit amount, the next screen will give you the option to choose a bonus. Go to the "Use a coupon code" section to manually enter your desired coupon.
If this is your first ever deposit at Red Stag, we recommend claiming the 400% Deposit Match Bonus that is available to only first time deposits. To claim, make a deposit of at least $25 and use the 4000WIN bonus code.
Staking Contribution
At Red Stag, they use a staking contribution scale. The staking contribution will range from 0% to 100% depending on the game. Make sure to read the terms for a promotion, to make sure you understand the staking contribution as for game type "A" it maybe 100% in one promotion, and 70% in another promotion. For the most part the promotion we recommend have the same staking contribution.
Wagers on slots, keno, Bingo Bucks, Poker Slots and Dazzling Dice have a 100% contribution, that means for every $1 wagered, $1 will count towards your wagering requirement. Blackjack and Video poker plays have a 10% contribution, so for playing $1, then $0.10 will count towards the wagering requirement. All remaining table games will have a 35% contribution, so a wager of $1 will have a $0.35 contribution towards your wagering requirement.
Even though a game like Bingo Bucks may have a higher staking contribution, but you prefer to play Blackjack we recommend you play the game you prefer to keep everything enjoyable.
Maximum Wagers for Wagering Requirement
When you claim a bonus and work towards meeting your wagering requirement, Red Stag allows a maximum of $5 per wager.
This means that instead of trying to meet your requirement on just one wager, you will need to play more often. This gives you more opportunities to enjoy more wagers, at smaller values.
Claiming Additional No Deposit Bonuses
After claiming the recommended No Deposit bonus that gives you a $10 Free Chip (TENNER) you may be interested in claiming the 47 Free Spins No Deposit Bonus (CHBL47POKIES). Red Stag does allow players to claim multiple No Deposit Bonuses, but players must make a deposit prior to claiming any additional No Deposit Bonuses after their first one.
This means if you claimed the $10 Free Chip, you must make a deposit. Once you make your deposit, you will be eligible to claim the 47 Free Spins.
For those of you that like to maximize their bonus winning options, we recommend claiming the 400% Deposit Bonus (4000WIN) if you have not made a deposit before at Red Stag.
You may be able to find additional Red Stag Casino no deposit bonus codes at https://bonuspromocode.com/red-stag-casino-no-deposit-bonus-promo-codes/.
Claim your $10 Free Chip at Red Stag' Today! No deposit required!
Player Reviews
Leave a review of your experiences at Red Stag Casino below!
Red Stag No Deposit Bonus Code
Average rating:
0 reviews